PROVIDING BUSINESS LAW & ESTATE PLANNING SOLUTIONS FOR OVER 40 YEARS
Business owners face unique risks that pose significant long-term threats to the health of their business. At 4Sight Legal Services, PLLC, we're ready to help you prepare for these challenges.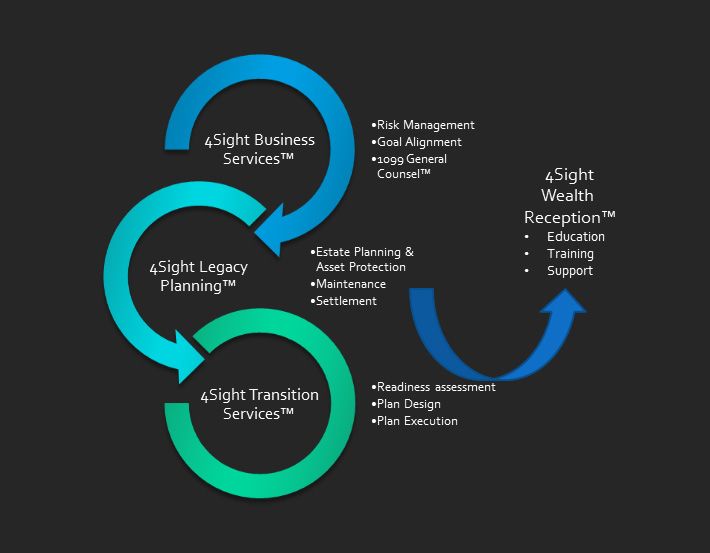 4Sight Legal Services has served clients in Chattanooga and Southeast Tennessee for over 40 years.

We understand the protection and peace of mind you need for your business and your assets.

Getting the help you need to create plans for your estate and your business is essential for the peace of mind for you, your business partners and your loved ones. When you talk to an experienced attorney, you get the benefit of years of experience evaluating the wants and needs of people in situations like yours.

After working with Fortune 500 companies, 4Sight Legal Services can offer all the experience with the personalized service and agility of a small firm. We can stay responsive to your changing needs.

To view our attorney profile, click the link below:
CUTTING EDGE SOLUTIONS FOR YOUR BUSINESS
Chattanooga is no stranger to new business and the entrepreneurial spirit. We live in a vibrant city where small business is thriving.
4Sight Legal Services is in touch with what is happening in the community and can help you establish your business and prepare for the road ahead. We can help you anticipate risks and develop a plan to keep your business moving forward.
COMPREHENSIVE LEGACY PLANNING SOLUTIONS
After years of work, you should be able to protect your assets and pass your legacy on to your loved ones.
We can help you convey your estate in a way that is consistent with your wishes. Our skilled team can help you build a plan personalized to your needs and values.
GET STARTED ON A CUSTOM LEGAL SOLUTION
Talking to an experienced lawyer about your business and estate planning needs can help you establish your future for you and your loved ones. To learn more, contact us online or call our Chattanooga office at 423-305-1704.
BUSINESS LAW & ESTATE PLANNING SERVICES – START HERE:
4SIGHT BUSINESS SERVICES™
Risk management, goal alignment and general legal counsel for small and mid-sized businesses SMBs
4Sight Legacy Planning™
Estate planning, asset protection, maintenance & settlement services for individuals and families
4Sight Transition Services™
Readiness assessment, plan design & plan execution for transitioning ownership of small & mid-sized businesses
4Sight Wealth Reception Services™
Education, training and support for individuals inheriting wealth or taking over a business
SPEAK WITH A DEDICATED, EXPERIENCED BUSINESS LAW & ESTATE PLANNING ATTORNEY ABOUT YOUR CONCERNS
Headquartered in Chattanooga, our estate planning firm represents clients throughout Tennessee. Learn more about our Business Law and Estate Planning services by scheduling a consultation today. Please call 423-305-1704 or complete our online contact form.