DEVELOPING A PLAN FOR RISK MANAGEMENT
Business owners face unique risks that pose significant long-term threats to the health of their business. At 4Sight Legal Services, PLLC, we're ready to help you prepare for these challenges.
While there is a sense of accomplishment that comes with owning a business, there is also a certain amount of risk. Some risks are completely avoidable, and others must be handled with care.
In many ways, it becomes like walking through a minefield. It can either be full of unpredictable dangers or navigated with a guide who knows how to anticipate problems and help you manage them.
4Sight Legal Services, PLLC, understands risk management for business owners and can be your guide to help you navigate your business through all kinds of risks. An attorney can help you develop policies and procedures to prevent problems.
WE UNDERSTAND WHERE THE RISKS ARE

4Sight Legal Services can help you anticipate the risks your Tennessee business may face. We can help you prepare for situations involving: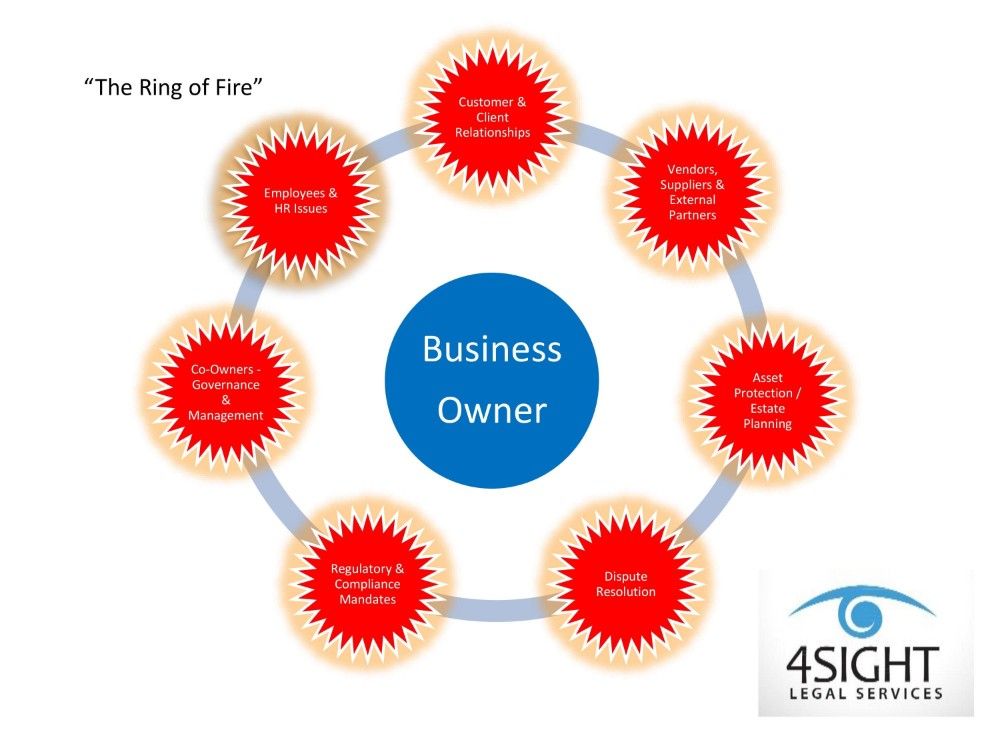 Customer & client relationships
Vendors, suppliers & external partners
Asset protection/estate planning
Dispute resolution
Regulatory & compliance matters
Co-owners governance & management
Employees & HR issues
Like most private business owners, you likely have 70 percent or more of your wealth tied to your business. We can help you develop a plan so that when a problem arises, you are prepared to face it without jeopardizing everything you have invested.
You and your business need a guide to predict the potential threats that you could face. It is important to talk to a knowledgeable lawyer about managing the risks your company faces so you can have a plan.
Contact us online or call (423) 305-1704 to make an appointment in our Chattanooga office.
BUSINESS LAW & ESTATE PLANNING SERVICES – START HERE:
4SIGHT BUSINESS SERVICES™
Risk management, goal alignment and general legal counsel for small and mid-sized businesses SMBs
4Sight Legacy Planning™
Estate planning, asset protection, maintenance & settlement services for individuals and families
4Sight Transition Services™
Readiness assessment, plan design & plan execution for transitioning ownership of small & mid-sized businesses
4Sight Wealth Reception Services™
Education, training and support for individuals inheriting wealth or taking over a business
SPEAK WITH A DEDICATED, EXPERIENCED BUSINESS LAW & ESTATE PLANNING ATTORNEY ABOUT YOUR CONCERNS
Headquartered in Chattanooga, our estate planning firm represents clients throughout Tennessee. Learn more about our Business Law and Estate Planning services by scheduling a consultation today. Please call 423-305-1704 or complete our online contact form.